COVID-19 has greatly impacted all aspects of life in Hawaii and all over the world. HDRS is committed, as a healthcare facility, to provide the community with critical diagnostic imaging services while adhering to all CDC, State Department of Health and ACR recommendations. We will remain open until instructed otherwise. Clinic operation hours and exam availability may vary depending on the constantly changing situation.
Ala Moana office (Suite 310) has resumed services. X-ray will be open daily. MRI, CT, and ultrasound will be available based on staff availability. Our Center for Women's Imaging (Suite 317) will be open on Mondays full-day and Thursdays half-day for diagnostic mammography and dexa exams.
All patients will be required to wear a face mask. If the patient does not have their own, we will issue one. Supply is very limited so we will be distributing masks at our discretion. In an effort to further prevent exposure, only patients will be allowed to enter our facility. If the patient is a minor or needs assistance, only 1 family member or caregiver will be allowed to accompany the patient.
Please review the sections that apply to you or your patients before coming in to one of our clinics for scheduled appointments. Feel free to call us at (808) 949-0091 if you have any questions about your upcoming appointment.
This page will be updated as needed.
All Visitors
All visitors to our clinics must wear a mask and will be subject to screening before entering the building.
Screening process at St Francis will be done in the lobby of the Sullivan building. The main double doors will be used for exit only.
You will be asked the following series of questions: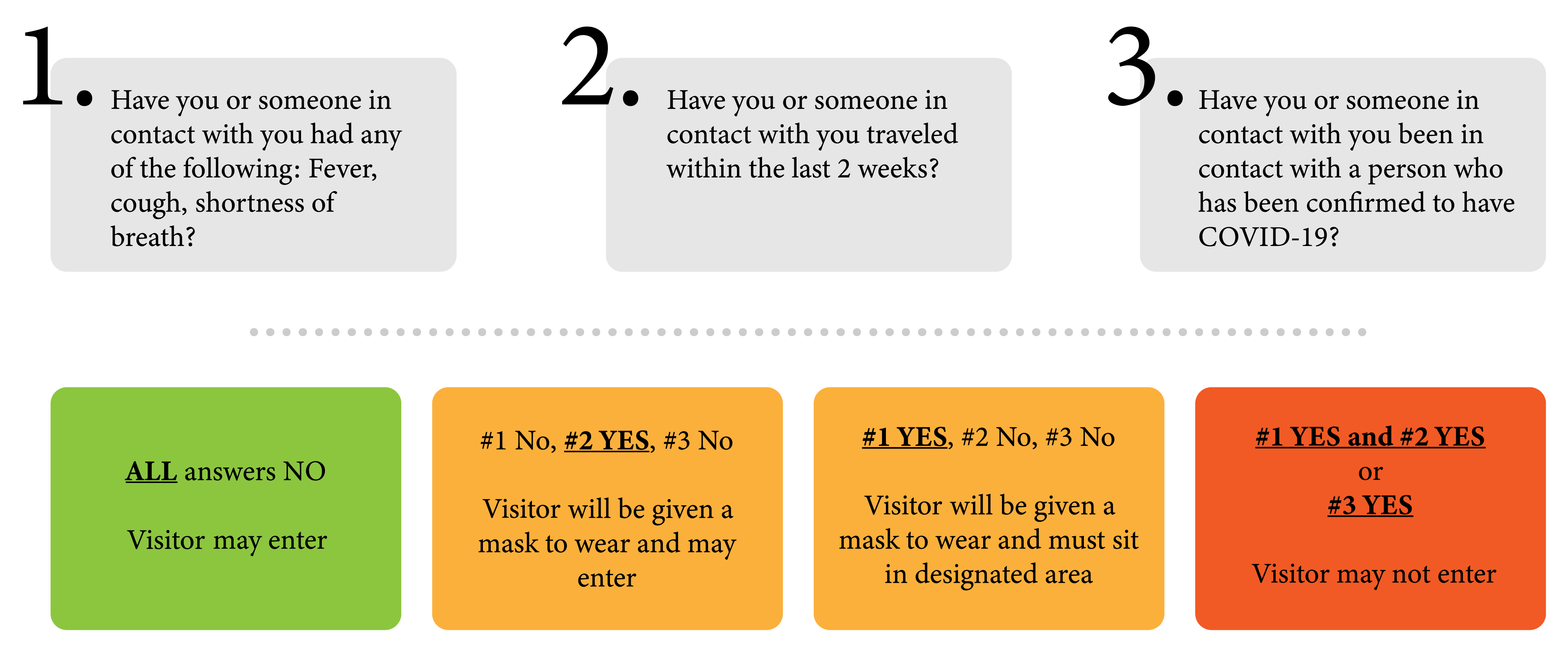 If you were instructed by your doctor to have an exam done and cleared our screening process, please follow any pre-exam preparation (if applicable) and arrive at or before your check-in time. There may be additional waiting time due to more frequent equipment and exam room cleaning.
Please notify our triage staff if you have:
coughing
shortness of breath
Or at least two of these symptoms:
Fever
Chills
Headache
Sore throat
Muscle pain
New loss of taste or smell
Repeated shaking with chills
HDRS staff will be using personal protective equipment (PPE) such as face masks and gloves for both your safety and theirs. All patients and visitors are required to wear a mask.
Exposure protocol guidelines published by UCSF are also being utilized to determine if HDRS staff is able to continue or return to work.
We have resumed select screening exams.  These include DEXA scans, Coronary calcium scoring, Low Dose screening Chest CT, US Aorta screenings, US breast complete screenings, and MR aneurysm screenings. Screening mammograms may resume mid-May pending CDC recommendations.
In addition, we will be working to adjust schedules as things change:
All modalities may have reduced appointment slots to allow for extra cleaning time.
All patients and visitors must wear a mask.
Only patients may enter office. One family member or caregiver may accompany patient to assist.
St Francis

Starting Monday March 30th office hours will be from 8am – 5pm. If demand for MRI increases, we will extend hours as needed.

Ala Moana – Suite 310 (XR, MR, CT, US)

This office resumed services on April 20th.
X-ray will be available daily.
MRI, CT, US will be available based on staff availability.

Ala Moana CWI – Suite 317 (MG, US)

Will be open on Mondays (full day) and Thursdays (half day) for diagnostic mammography and diagnostic  dexa exams
US will be available on these open days
Schedule may change as demand necessitates
In the future when we are able to start performing screening mammograms, we will be looking to extend hours to catch up on the exams that have been pushed out due to the CDC recommended delay during the coronavirus pandemic.
If your patient does not clear our COVID-19 screening we will direct them to the appropriate facilities for screening or imaging. You will be notified immediately if this happens.